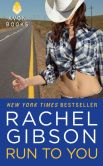 RUN TO YOU by Rachel Gibson (review)
Life is not going to work without a plan
Stella always thought that her father treated her exactly like what he thought she was his illegitimate daughter. Stella envied the sister she never met and convinced herself life in Texas for her sister was perfect. When her sister Sadie says please come meet me, Stella says no until the mob chasing her convinces her to get out of town.
Stella finds herself with a personal driver who is one man she really wants to say yes to in every way possible. Beau is just doing a favor for a friend and never expected to do anything but dump Stella off at the Miami airport, not drive her to Texas. The Marines taught Beau to do the right thing and if that meant days in the car with a woman that scatters his thoughts, so be it. Stella is the breath of fresh air that Beau has longed for, her habits are scattered, and the random ideas baffling but she is genuine in a way Beau has never experienced. As the days roll along Beau realizes that the idea of behaving until the right woman came around was a good idea because Stella is proving what great character and worth breaking every rule in the book with.
When Stella meets her sister and realizes the fantasy life she had created was nothing more than a flashbang everything she thought she wanted she realized she already had. If Stella could convince Beau that you do not always have to be fighting a non-existent battle, perhaps they might have a life worth living together.