The commissary is now offering Halloween candy ... so I was not surprised to received a package from Kensington with an ARC for Laura Levine's

DEATH OF A NEIGHBORHOOD WITCH

. Laura Levine the Jaine Austen Mysteries - Jaine is a freelance writer living in Los Angeles who finds herself in the middle of murder, mayhem, and cat hair. Jaine's cat, Prozac, has no patience for Jaine's sleuthing. Prozac may be on the cover of

DEATH OF A NEIGHBORHOOD WITCH

, but it is Jaine who creates the havoc:
Halloween is just around the corner, and between cauldrons of candy and a deliciously cute new neighbour, Jaine Austen is struggling to resist her sweet tooth. But this year, her once humdrum neighbourhood seems to be handing out more tricks than treats.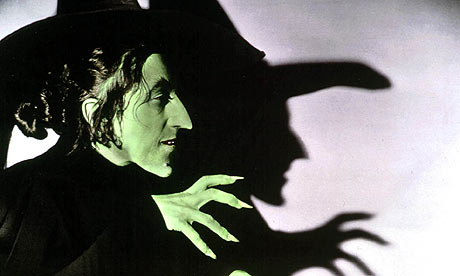 The Wicked Witch from THE WIZARD OF OZ
My mother, Barbara, read

DEATH OF A NEIGHBORHOOD WITCH

on our trip to Kauai. She offers her thoughts:
Reading Laura Levine's latest book was like being reunited with an old friend Jaine Austen. Although I've missed a few books in the series (I intend to catch up), I fell right back into the Jaine's life. This book was thoroughly enjoyable. One has to laugh out loud at Jaine's antics. Her neighbors, friends, and even parents (emailing from Tampa) make for such an amusing time as if one is there in Los Angeles with Jaine. It is easy reading for a person who perhaps doesn't have all day to read in one sitting. It was the perfect book for traveling. My fellow companions were quite alarmed at my laughter! Laura Levine wrote a surprising ending that makes this my favorite Jaine Austen book. All in all,

DEATH OF A NEIGHBORHOOD WITCH

was a very happy experience.
Mahalo, Barbara, for your review. I am holding onto the ARC to read it myself (and post my review at SOS Aloha). Since Barbara read this book in Kauai, I am giving away a Kauai 2013 calendar. To enter the giveaway,
1. Do you celebrate Halloween - dress up? give away candy? brew up apple cider in your cauldron?
2. This giveaway is open to all readers.
3. Comments are open through Friday, September 7, 10 pm in Hawaii. I'll post the winner on Saturday, September 8.
Mahalo,
Kim in Hawaii
To learn more about Laura and her books, check out her website at

www.lauralevinemysteries.com

.
Here is Prozac's Hawaiian cousin ....