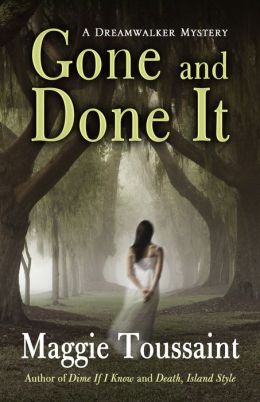 I have been a fan girl of Maggie Toussaint for four years and then some. We were connected through everyone's favorite military spouse, Kim Adams Lowe. Kim and I did a promo for Maggie and I have been doing them every time she says "Mary I have a book coming out", and I scream how soon can I get my hands on it.
The character in Gone and Done It is a strong woman who knows fact from fiction and takes no crap off of any man regardless of self important they are. Baxley has powers she is trying to get under control and my thought is "aren't we all"...
GONE AND DONE IT by Maggie Toussaint
Baxley Powell has a lot on her mind and way too much roaming through her head every day. She has gone back to her home town waiting to find out the status of her husband, especially with the Army refusing to say if he is alive or dead. Baxley is running a landscaping business that is getting by but she really needs to bring every job to completion to survive. What is unique about Baxley is her ability to see, hear, and feel things about others both living and dead. Baxley comes from a long line of gifted people and even her daughter is showing signs of having this treasured ability if one regard it as such, which Baxley does not always do.
What Baxley never wants is to find a dead body let alone three on the property she is landscaping or for the police to think she had something to do with how they got in the ground in the first place. This was a job to build a lifetime business around and everything is sinking into the ground, literally. The police ask for her help but want to pretend she does not give it; her father wants her to take over his dream walking ability which brings in no hope of a profit; and everyone wants to point a finger at her and say that everything fell apart once she got to town.
However, someone thinks Baxley may know too much and is going to expose them for the murderer they apparently are. This pushes Baxley into the very dangerous territory of trying to keep her child safe, stay calm and alive at the same time. There is a snake in the grass moving about trying to remove anyone that is getting in the way of the goal no one is sure they understand.
Maggie Toussaint writes with a depth of characters, a wonderfully scary storyline, and a dose of real life for a single, working mom. Enjoy every page of this book it is reading time well spent and should be a part of every book club discussion.