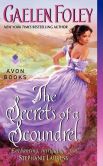 Two copies of this book will be
given away.
To be eligible to win please leave your name or a
comment
, on
Could You Be A Spy?
THE SECRETS OF A SCOUNDREL by Gaelen Foley
The mere touch of your hand intoxicates me to the point of distraction
Virginia, Lady Burke has been allowed through widowhood the freedom to do as she desires and champion causes that must be fought. Gin is albeit an illegal one, also the daughter of the found of "The Order" an elite group of men he brought together to fight for the rights of all society. When Gin needs help with her latest mission the one man she knows she can trust is Nick, Lord Forrester. Her father held Nick close to his heart and trained him personally even though Nick tried to lead his own way and found himself in a bit of hot water on occasion. Now all will be well if Gin can get Nick out of prison and on board with her plan plus perhaps a bath would be great.
There is to be an exclusive night of illegal trading that brings buyers and sellers from all over the world together and Gin had a marker that would have allowed her access. She must attend to save the young women that have been abducted and are about to be sold in nefarious futures. Yet the marker she had was stolen by a man she trusted and yet Gin is forced to trust Nick he will not prove her wrong in asking for his help.
Nick freely gives himself to Gin saying out loud it is to gain his freedom but in his heart he knows that this woman is the one to set his heart free. He has been treated like a commodity his entire life and only Gin sees him as a man who longs for love and the warmth of a woman's touch against his face. Together they can become strong warriors and agents who long to set right the wrongs they see. Gin fights strong beside him never taking the easy route to success and when things go badly she even gives herself up to save the man she loves.
Only Gaelen Foley can keep a series fresh, write the most romantic of stories, with characters that possess such depth in mind and heart. Every historical romance should bring this much reading pleasure to its owner